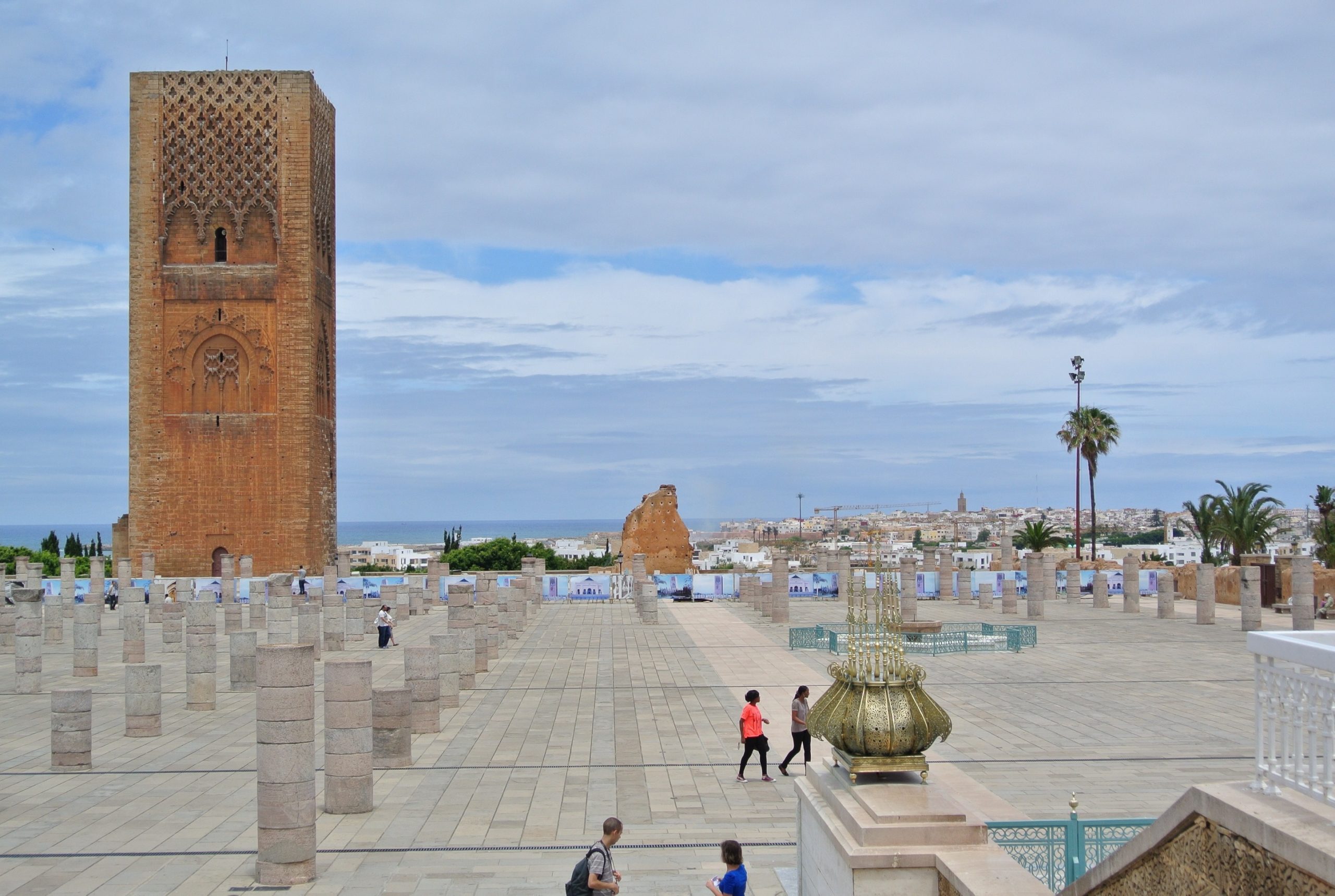 Explore the best things to do in Rabat:
Rabat city is known for being home to various historical attractions, and UNESCO World heritage site. It is the capital city of Morocco, located in the north of Morocco; this city offers a wide range of tourist attractions and historical landmarks to its visitors. Additionally, Rabat is filled with culture history and a unique tourist sites. From outdoors activities, busy souks, unforgettable experiences, and shopping markets. In this article, I am going to show you the finest attractions around the city of Rabat.
Rabat is one of the most prominent imperial cities of Morocco; Rabat is famous for its fascinating historical landmarks including Hassan Tower, which has been recognized as UNESCO world heritage site, the Mausoleum of Mohamed 5, which is an essential historical attraction, situated in the capital city of Rabat. The Mausoleum is famous for its stunning architecture, which presents a great example of the Moroccan architecture.
Another major site is Oudaya Kasbah is also an interesting historical site, was built by Almohad dynasty in 12 century. It is situated in a great location overlooking Abu Ragrag river and the Atlantic Ocean. The Kasbah was used years ago as Military base to protect the city from the enemy. In addition, The Kasbah Museum is a part of the Kasbah, inside of it, you will find various items, and memories related to the history of Rabat.
In order to be immersed in the Moroccan culture and explore the insights of Rabat. It is recommended to hire a local guide, who will take you on a local tour around the city tourist attractions.
The climate of Rabat is cool in winter and scorching summers. Additionally, Rabat is well known for its nightclubs and parties. Rabat is also popular for its wonderful beaches and mild climate. It is suggested to visit Rabat in the winter and spring. Visitors should expect it to be warm in the summer
Rabat's historical and cultural attractions:
Rabat is rich in culture and history. There are numerous cultural and historical attraction in Rabat city. The famous Hassan Tower is one-of-kind tourist attraction around the city. Historically, the minaret was built in 1195 AD.  This tourist attractions is an incomplete minaret in the center of the city. In addition, Oudaya Kasbah is an important tourist attraction. The Kasbah is registered as UNESCO world heritage site. Additionally, Mausoleum of Mohamed 5 is, however, one of the historical tourist attractions of the city.
Oudaya Gardens are formed as some of the finest tourist sites in the city. These gardens are filled with beautiful, colorful and amazing flowers. Furthermore, Challah Necropolis is an ancient monument in the city of rabat. This historical monument is an archaeological roman site.
The parliament of Morocco is also worth a visit.  Rabat's Andalusian garden is a lovely location. This attraction is fascinating tourist location for leisure, this garden offer very colorful kind of flowers.
Rabat is known for its numerous markets, shops and souks, which offer a wide range of goods, commodities, and souvenirs to its visitors. Furthermore, Rabat is where you can find colorful rugs, handmade crafts, and jewelry.
While taking a local tour of Rabat's terrific alleys. There, you will find shops and boutiques that sell everything from Clothes to food… Rabat city is also known for its tasty cuisines especially the Moroccan one. In addition, Souk El-Hanna is one best places where you can find traditional items related to the Moroccan culture.
Outdoors activities in Rabat:
Rabat is great place for numerous outstanding tourist attractions and outdoor activities. The city is famous for having parks gardens. The zoo of Rabat is a great place where you can find a variety of animals including lions, elephants, and giraffes. Also, Abou Raqraq river is one of great place where you can experience different activities like skiing  and kayaking.
Furthermore, the beaches of Rabat are one of kind places to swimming, sunbathing and  enjoy watersports. Also, the high Atlas Mountains are popular spot where experience trekking, take in the wild life. The Atlas Mountains offers stunning views where you can witness the whole city. On the top of that,  Zaouyat Moulay Idriss, is also a great spot for hiking and admiring the amazing nature.
Rabat is very known for nightlife clubs it offers clubs, bars, and parks for music and entertainments. Oudaya is one of kind spot for nightlife where you can enjoy your night and drink. Here, you will find a bulk of bars and clubs.. Rabat's stunning beaches are one of kind places where you can enjoy nightlife.
Rabat' Jazz Festival is one of the city' best events. This Festival brings some of the finest musicians and celebrities from all over the world. Moreover, Rabat is famous for other activities and festivals like Rabat' s film festival, and festival of literature.
Rabat's stunning location make it the finest starting point for day trips. You can take day trip from Rabat to Zaouyat Moulay Idriss where you can enjoy some one of fascinating attractions. Moreover, by taking day trip from Rabat, you will have the the chance to visit the imperial cities of Fes and Meknes, which a home to numerous historical and cultural landmarks.
The Blue city of Chefchaouan is a popular tourist destination, which you can visit by taking day trip from Rabat. Furthermore, Marrakech is a great spot for day trip by taking a day trip from Rabat you will get the chance to visit Marrakech's the popular tourist attractions including the famous Dejamaa Lfna Square, Koutobia mosque and the majestic Majorelle Gardens.
Rabat is a great spot for multiday tour. Here, you can customize your tour from Rabat to the south of Morocco and visit the Sahara desert as well as the imperial cities of Morocco.
Guesthouses and hotels in Rabat:
Rabat's old Medina is a great place where you can find best accommodations with affordable prices. Rabat is filled with guesthouses, hostels and hotels depending on your option and demands. The Avenue of Mohamed is a great spot where you can find affordable, comfortable accommodations. Rabat city is home to numerous luxury resort hotels, and hostels.
If you are looking for accommodations with that would give you an overall view of the Moroccan culture and history, it is advised to seek great riad in the Old Medina of Rabat, Here, you can find comfortable accommodation that gives view of the Moroccan history like its unique tile ( Zelij ) and its colorful carpets
Tips For visiting Rabat :
When you are taking a tour of Rabat city. You should bear few things in mind. First, make sure to dress like locals especially women; their arms and legs should be covered. Next, be sure to respect the Moroccan customs, and traditions. Morocco is a Muslim country so make sure to respect their religion.
Additionally, haggling or negotiating is a part of the Moroccan culture, so when selling from stores, boutique. Feel free to negotiate before buying anything. Furthermore, be aware of strangers and pickpockets, Rabat is a safe country but it is better to be aware of your surroundings.
Rabat is known for its amazing cuisine and Moroccan food so make sure to give it a try. Last but not least. Don' t eat food at the public in Ramadan, it is better to eat in the restaurant or snakes.
Dinning experiences in Rabat :
Rabat is a great place to try different Moroccan dishes. The city offers stunning restaurants which offer best Moroccan and international dishes. Moreover, Rabat is place where moroccan dishes like Tajine and couscous are served at restaurants. Make sure to experience the best dishes that the city offer.
Rabat is one of the captivating tourist destination to visit for not only its stunning historical and cultural monuments but also the city offer a plenty of outdoors activities, dishes and shopping markets. Moreover, Rabat is famous for its festivals, dishes, sites and other things.
Are you looking for a trip to Morocco? Look no further than this outstanding city. Rabat has so many things to do and explore, and you are confident that you will enjoy the most out of your time there.