Best 5 Days Tour from Fes to Marrakech via Sahara
Your 5 days tour from Fes to Marrakech can be modified and designed according to your requirements.
Excellent services
Since our first purpose is to make our clients happy, we provide the finest possible service throughout your trip with Morocco Tours Company.
Multilingual drivers
Our drivers are fluent in a variety of languages and will, of course, be happy to offer their insider knowledge about all of the most intriguing destinations.
+ 6 Hours/D
Your trip with us will include plenty of rest stops and a manageable driving distance, so you'll have plenty of time to visit and learn about the most interesting sights.
Comfortable vehicles
For your comfort and enjoyment, we only offer the latest and most advanced 4×4 vehicles.
Overview of 5 days tour from Fes to Marrakech:
This 5 days tour from Fes to Marrakech, will take you to Morocco's imperial cities of Marrakech and Fes, as well as the Sahara Desert's Erg Chebbi in the south of Morocco. Start your intriguing 5 days tour from Fes to Marrakech  from the historic city of Fes and experience the greatest sceneries on your way to the Sahara Desert of Merzouga, stopping in Morocco's small Switzerland of Ifrane along the route. Make a Visit to Cedar Forest
Morocco's largest forest, which nourishes a large number of Barbay Apes. Continue the journey down the Ziz Valley.
Take a break at Aoufous, where you'll be able to capture the finest panoramic view of the Ziz Valley, while you continue your journey, admiring the lush foliage of the palm trees, Arrivinh  in Morocco's Sahara to start your desert journey through the Erg Chebbi dunes, enjoy the greatest desert views and watch a spectacular sunsets, reaching the camp you will be welcomed with a Moroccan mint tea, experience sandboarding. After dinner, get ready for a drumming show around the campfire.
Leaving the desert, go to Erfoud to learn more about the fossil discoveries, then stroll through the Todra Gorges. Continue to Dades Gorges, which exhibit remarkable geological rock formations , and Dades Valley, which has an annual rose festival and where local cosmetics are produced, continue to Skoura, home to 1000 Kasbahs. Following that, see Ouarzazate's famous film studio, Ait Ben Haddou Kasbah, and Talouet, before continuing on to Marrakech through the high Atlas Mountains.
Highlights of 5 days tour from Fes to Marrakech :
5 days tour from Fes to Marrakech Itinerary:
DAY 1: Fes – Azrou – Merzouga desert:
We depart the 5 days tour from Fes to Marrakech at 8:00 heading towards Merzouga desert. We pass through a spotless wonderful city of Ifrane known as '' the little Switzerland of Morocco" Later than, we drive to Cedar forest that feeds thousands of Barbary Apes, following that,  we continue traveling through Midelt city where we stop for lunch. Afterwards, we keep on driving across Ziz valley in which you will feel the beginning of Saharan oasis you will explore the charming oasis of Tafilalt. In the afternoon, you arrive in Erfoud, the date capital and where a date show is done every year. The city is also famous for fossil discoveries. Next, we arrive at Merzouga city where you will have chance to climb its attractive orange sands dunes and watch a unbelievable sunset as you can try sand boarding, if interested. Then , back to your hotel nearby the dune line where you will have dinner and overnight.
DAY 2: Exploring Merzouga areas – Visit nomads:

After luxurious breakfast at your hotel you will meet your tour guide who will lead you to discover the small areas of Merzouga including Hassi Lbied, Tanamoust and Khamlia where black skinned musical team exists, feel free to learn their ethnical music, Gnawa. Following that, we drive around the orange dunes of Sahara Desert Merzouga where you will have an opportunity to get to know more about nomads who live there for years, and still keeping the old gear including dishes, furniture and their tents because they consider all these items part of their culture. Afterwards, we get back to the dune line where your cameleer will be waiting for you to take you across the dunes of Erg Chebbi along the way you will have stops in order to watch incredible sunset and take admirable shots. After 1h 30min you reach at the camp in the heart of the Sahara, you will be welcomed with mint tea as a Moroccan greeting. After dinner. Join a drumming party around the campfire before a relaxed overnight at your private room.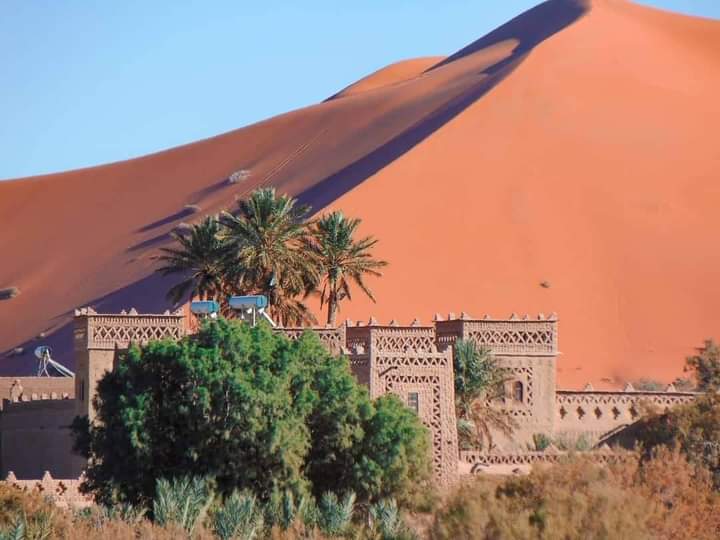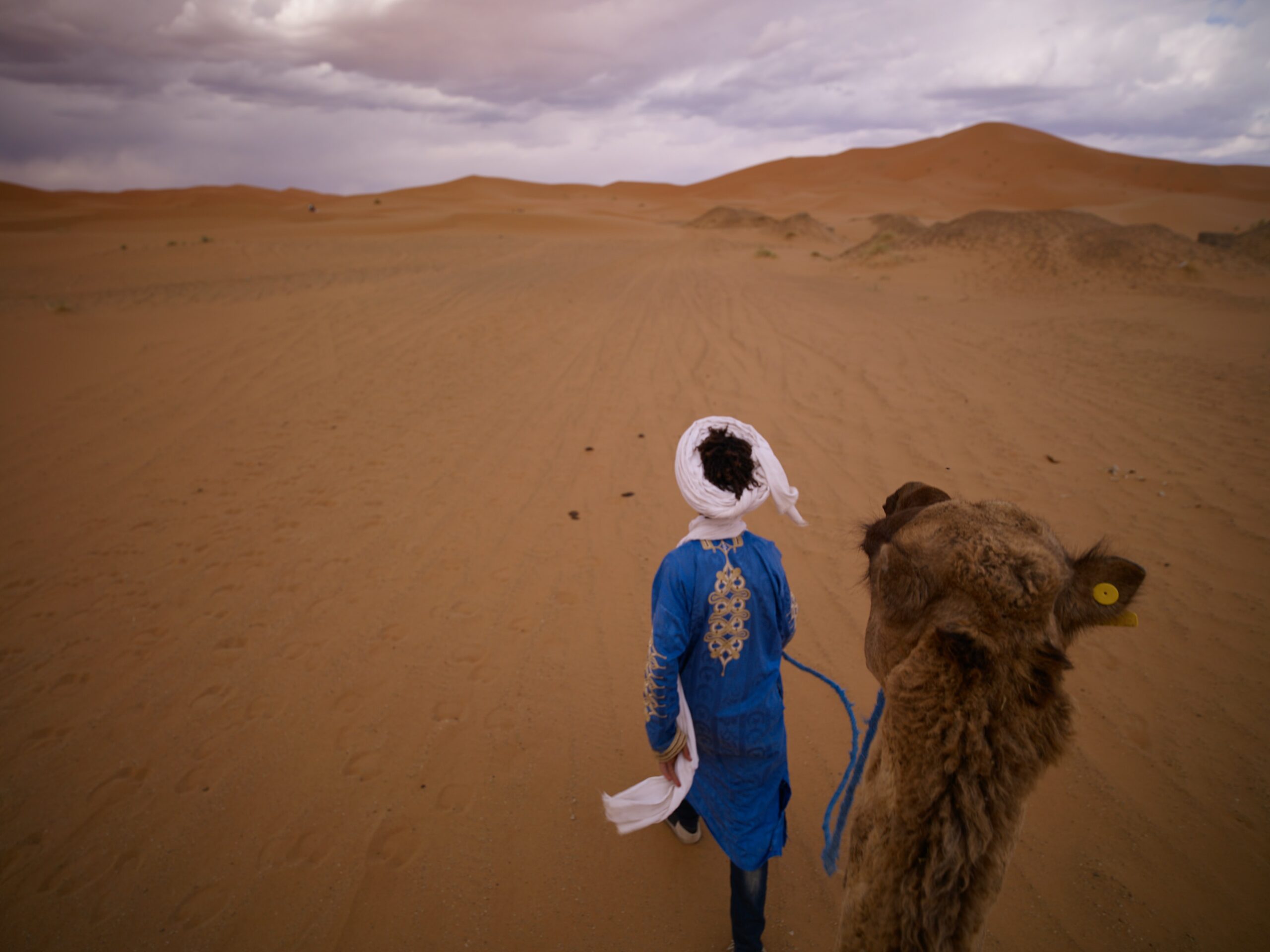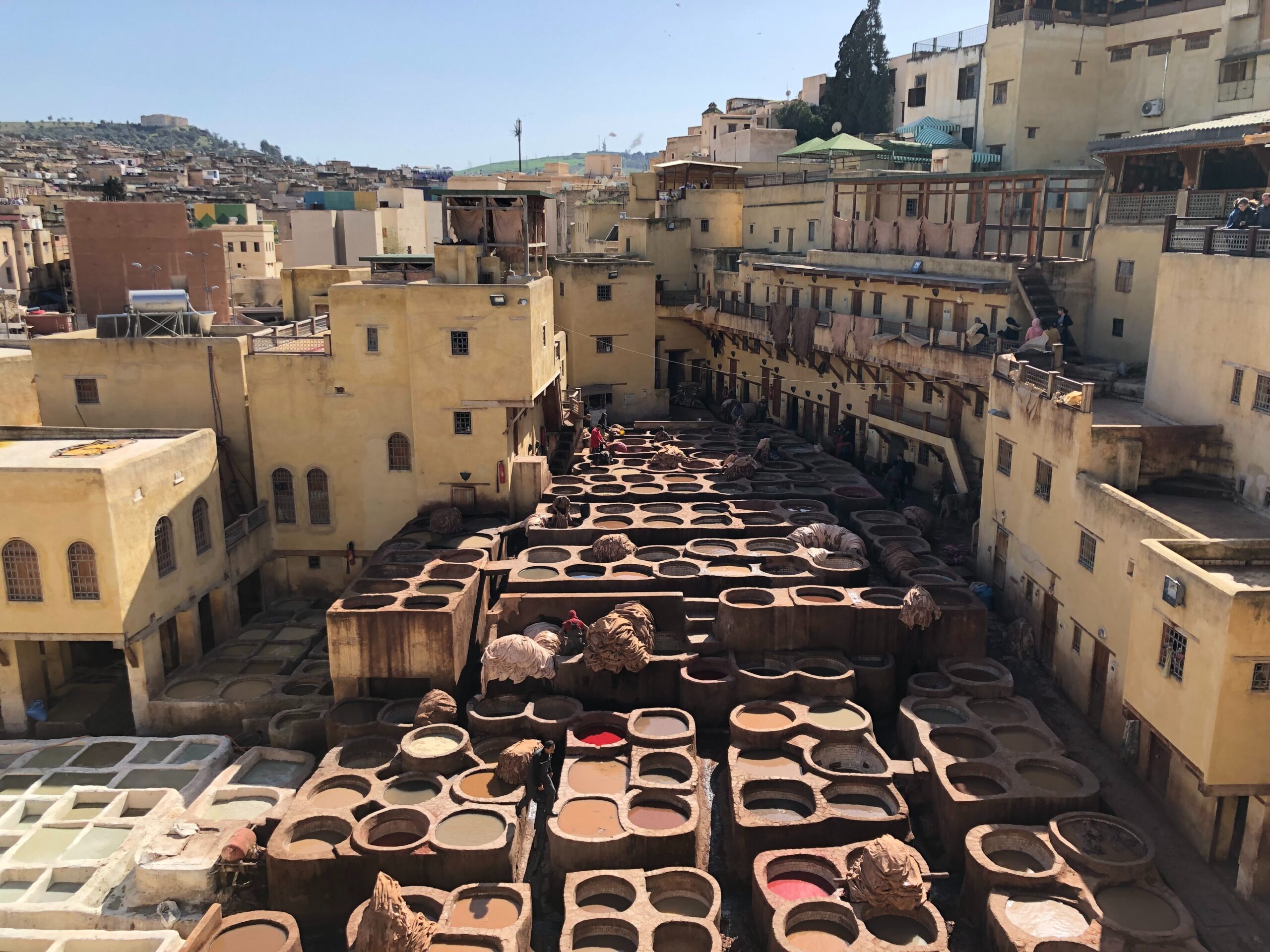 DAY 3: Merzouga – Dades Gorges:
Your camel man will wake you up earlier for a wonderful sunrise, then will head back by camels to the hotel where you will have breakfast and shower to get more energy for the coming days of the 5 days tour from Fes to Marrakech. Leaving for Rissani where a traditional market is and we will visit some museums there, then make a visit to Moulay Ali Cherif tomb. Following that,  we continue on driving through some villages including; Jorf, and Tinjdad Aririving in Tinghir where you will see  wonderful narrowing gorges which is  a preferable location for mountaineers. you may hike along the riverside crossing the gorges. If interested, you try you hand at mountaineering. Lunch in Todra Gorges, we head to Dades gorges where you may go on a local trip to discover rock formation and see the area's astonishing sceneries. Late afternoon you will head to your hotel for dinner & overnight at a captivating Kasbah.
DAY 4: Dades Gorges – Kalaat M'agouna – Ouarzazate:
Take breakfast at your hotel in Dades Gorges, then we head through Kalaat M'agouna, known for Roses Festival you may buy some local cosmetics that are made by local cooperatives. Our next destination will be Skoura where there are 1005 clay fascinating Kasbahs. Unfortunately, some of them have been restored. then make a visit to Amerdhile Kasbah, is a medieval fortified home or kasbah (tighremt in Amazigh) located in the Moroccan oasis of Skoura. It is regarded as one of Morocco's most stunning kasbahs. Next, We head to Ouarzazate where there are a plenty of astonishing monuments to be visited. Late afternoon arriving in Ouarzazate! Overnight.
DAY 5: Ouarzazate – Ait Ben Haddou – Marrakech:
Waking up in the morning and traveling to Touarirt Kasbah, a historic fortified kasbah in Ouarzazate. Following that, we will visit the Film Studio. Followin by a trip to  Ait Ben Haddou Kasbah, a UNESCO World Heritage site and walled village where numerous movies, including Game of Thrones and Gladiator, have been filmed. Following that, we will travel through the High Atlas Mountains, where you will be able to express your gratitude to the team for an incredible trip and satisfying services. We will then travel through some traditional Berber villages on our way to Marrakech, making stops wherever you wish, particularly at the Tizi n Tichka pass, to take memorial photos and drink mint tea. Ending your 5 days tour from Fes to Marrakech with unforgettable stories.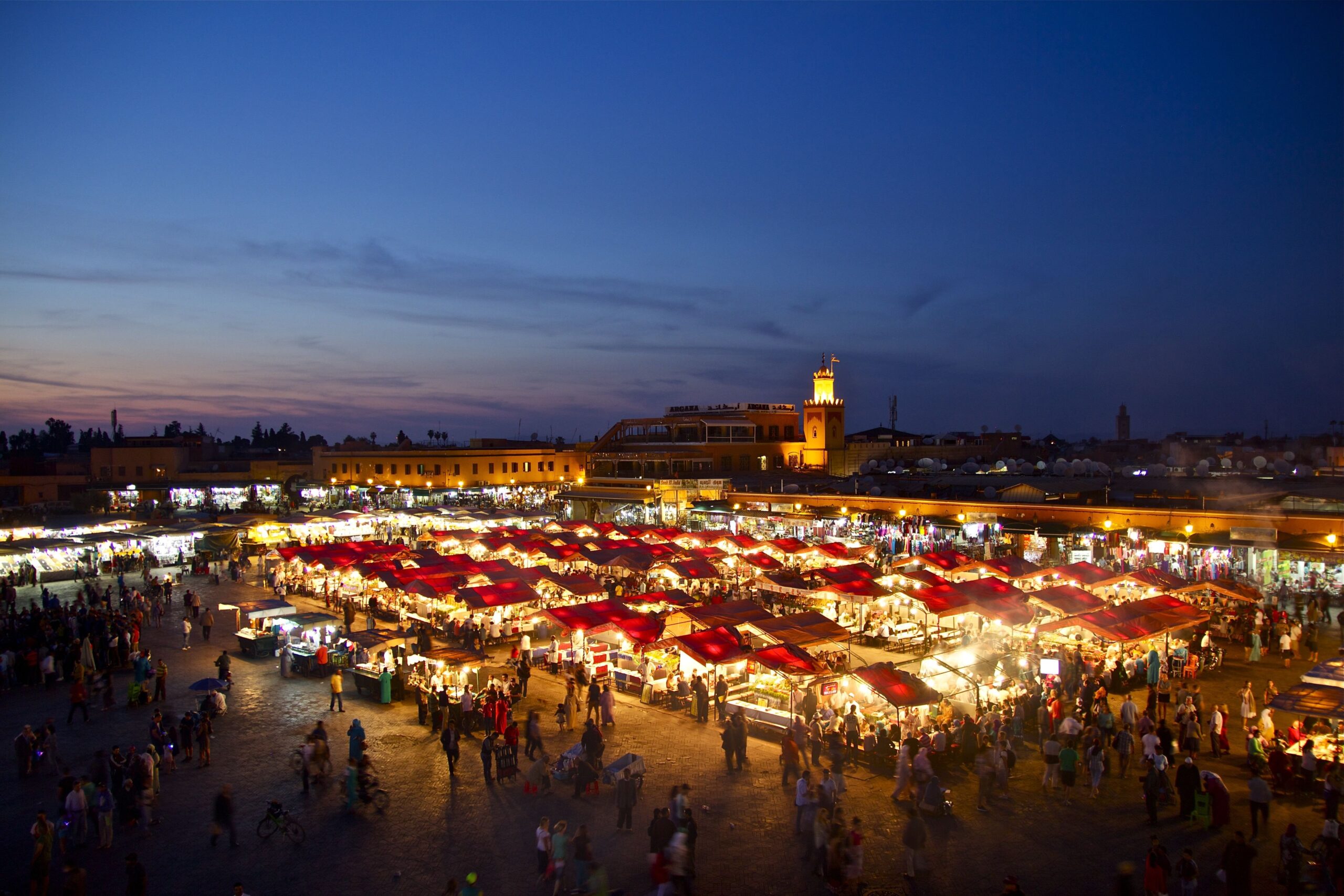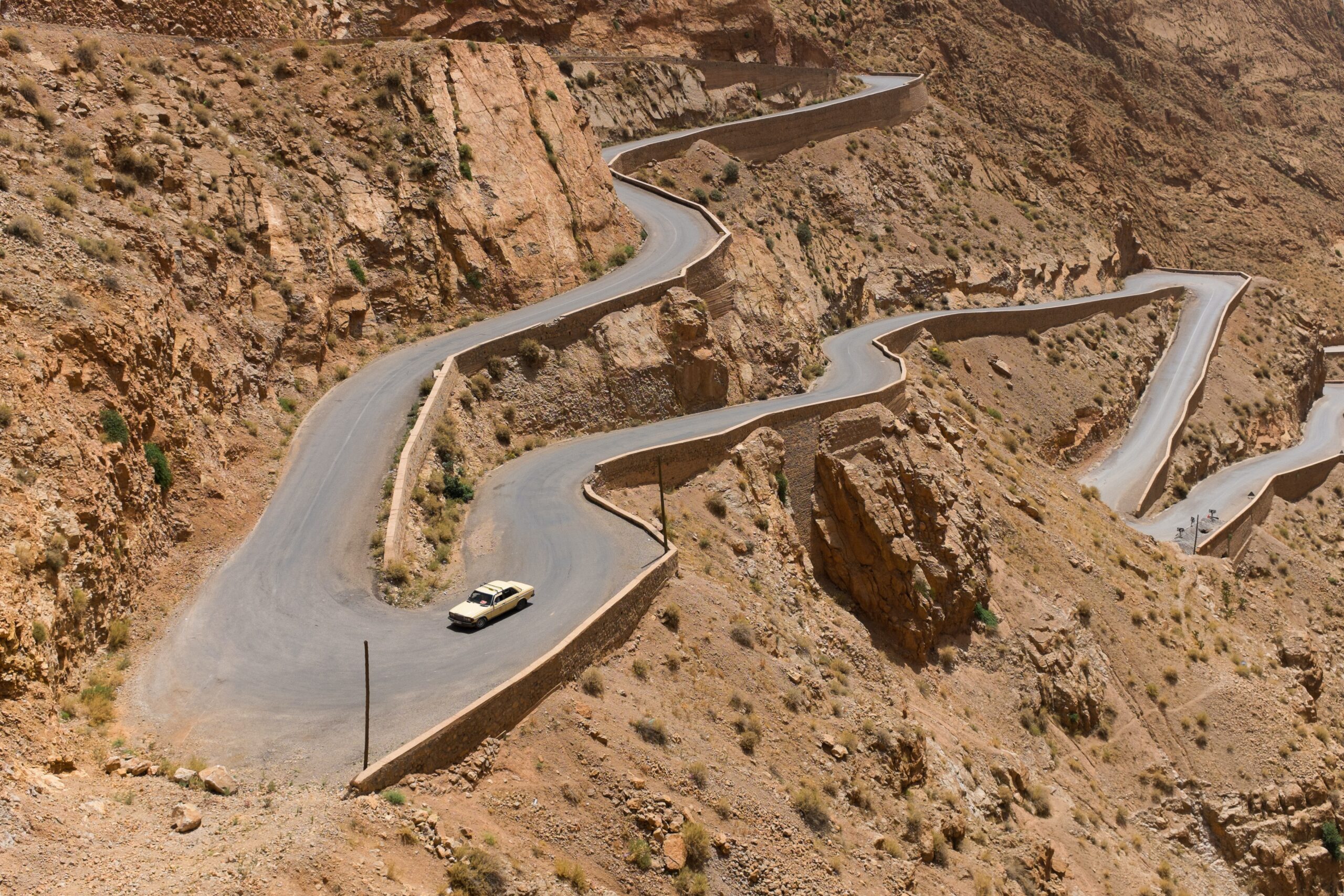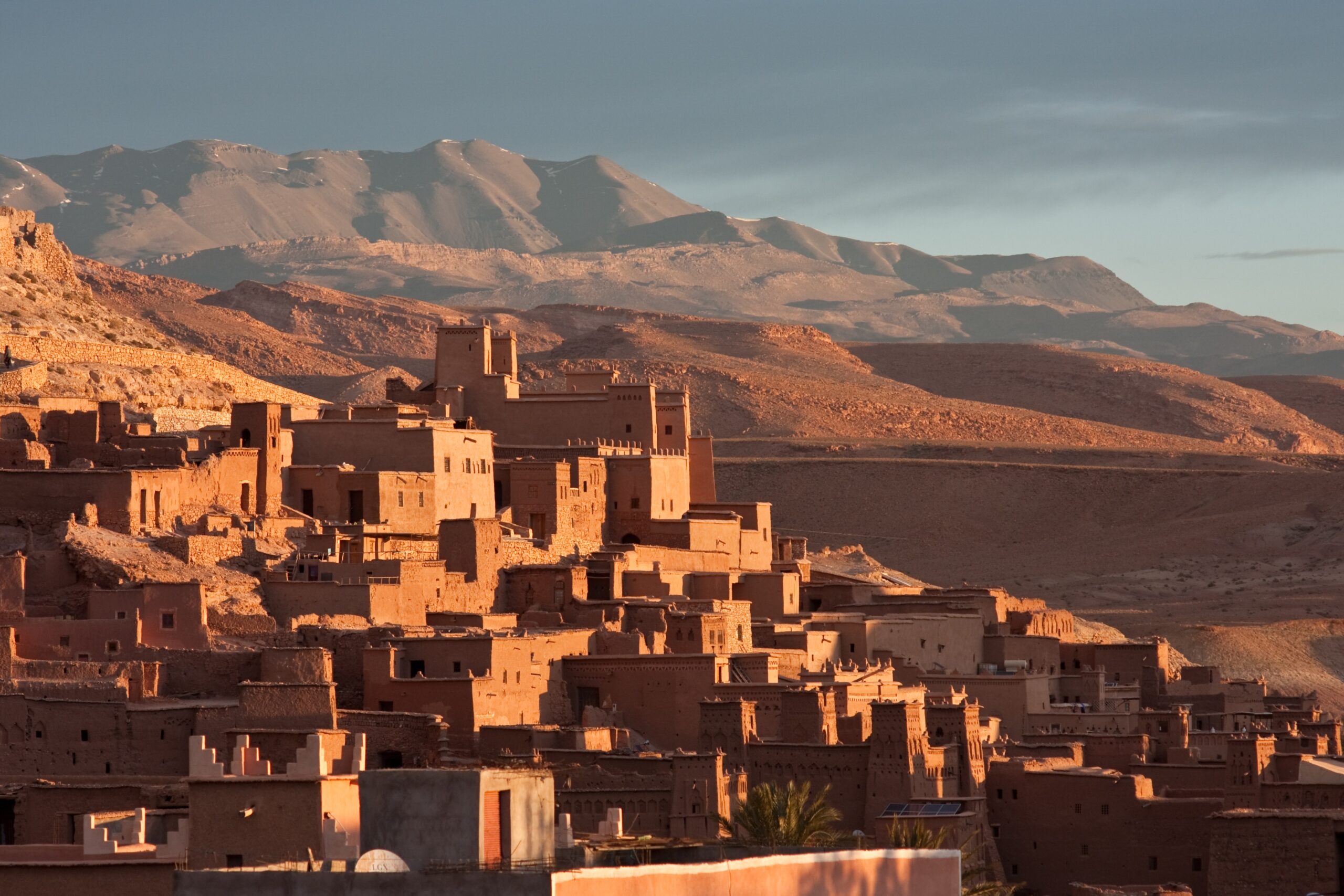 5 days tour from Fes to Marrakech Excludes and Includes:
English or Spanish speaking driver.
Overnight at desert camp.
Monuments fees (optional).
Vegetarian food is available.
Sleeping bag is not needed.
Interested in the tour ? Book Now
Please enter a few details in the form below. Within a few hours, one of our team members will contact you to discuss your enquiry.
We will gladly accept online payments as well as cash in person.
We generally ask for a small deposit via Paypal or any alternative payment method to confirm the 5 days tour from Fes to Marrakech, and the remaining to be paid to your tour guide at the time of pick-up.
For a full refund, you must cancel at least 15 days prior to the tour' start date.
If you have any question regarding this tour feel free contact us and we will get back to you as soon as possible.
(+ 212) 704131562 / (+ 212) 638516333
5 days tour from Fes to Marrakech related tours:
2 Days Tour From Marrakech to Zagoura
Duration: 2 Days & 1 Night
2 Days Tour From Marrakech to Merzouga
Duration: 2 Days & 1 Night
3 Days Tour From Marrakech to Merzouga
Duration : 3 Days & 2 Nights
4 Days Tour From Marrakech to Ouarzazate
Duration: 4  Days & 3 Nights
5 Days Tour From Marrakech to Merzouga
Duration : 5 Days & 4 Nights
6 Days Tour From Marrakech to Merzouga
Duration: 6 Days & 5 Nights
4 Days Tour From Marrakech to Ouarzazate
Duration : 4 Days & 3 Nights
3 Days Tour From Marrakech to Merzouga
Duration: 3 Days & 2 Nights
2 Days Tour from Fes to Marrakech
3 Days Tour from Fes to Merzouga
4 Days Tour from Fes to Merzouga
Duration: 4 Days & 3 Nights
5 Days Tour from Fes to Marrakech
Durtion: 5 Days & 4 Nights
6 Days Tour from Fes to Marrakech
Duration: 6 Days & 5 Nights
8 Days Tour from Fes to imperial cities
Duration: 8 Days & 7 Nights
1 Days Tour from Fes to Chefchaouan
5 Days Tour from Fes to Marrakech
Duration: 5 Days & 4 Nights
6 Days Tour from Casablanca to Marrakech
7 Days Tour from Casablanca to Marrakech
Duration: 7 Days & 6 Nights
8 Days Tour from Casablanca to Marrakech
Duration: 8 Days & 7 Nights
15 Days Tour from Casablanca to Marrakech
Duration: 15 Days & 14 Nights
6 Days Tour From Tangier to Marrakech
Duration : 6 Days & 5 Nights
10 Days Tour From Tangier to Marrakech
Duration: 10 Days & 9 Nights
3 Days Tour From Fes to Merzouga
Duration: 2 Days & 1 Night
5 Days Tour From Marrakech to Merzouga
Duration: 5 Days & 4 Nights