Best 6 days Morocco desert tour from Fes to Marrakech
Your 6 days Morocco desert tour from Fes to Marrakech can be modified and designed according to your requirements.
Excellent services
Since our first purpose is to make our clients happy, we provide the finest possible service throughout your trip with Morocco Tours Company.
Multilingual drivers
Our drivers are fluent in a variety of languages and will, of course, be happy to offer their insider knowledge about all of the most intriguing destinations.
+ 6 Hours/D
Your trip with us will include plenty of rest stops and a manageable driving distance, so you'll have plenty of time to visit and learn about the most interesting sights.
Comfortable vehicles
For your comfort and enjoyment, we only offer the latest and most advanced 4×4 vehicles.
Overview of 6 days Morocco desert tour from Fes to Marrakech:
 This 6 days Morocco desert tour from Fes to marrakech involves spending a significant amount of time in the desert. As part of this Fes to Marrakech desert tour, you'll get to see some of the country's most popular sights while also experiencing the Sahara desert adventures. This intersting 6 days Morocco desert tour from Fes to Marrakech via Sahara desert of Merzouga is a must-do for anybody planning to land in Fes to begin their amazing journey.
Our travel agency offers  variety of Fes desert  tours in which you will explore the city and see some of the most fascinating sights including Medina, Tanneries, the royal palace, and El Mellah…etc. This 6 Days Morocco tour is one of kind Fes desert tours that will qualify you to see the real Morocco and get to know about Berbers.
Exploring Fes and its fascinating sites we head to the Sahara desert of Merzouga, then stopping in the Moroccan Alps of "Ifrane" along the way. Azrou is home to Morocco's biggest forest, which is also home to plenty of wild monkeys. After that, we'll go via Ziz Valley until arriving at Merzouga's Sahara Desert. Take a camel ride and spend the night in the middle of Sahara in addition to fantastic drum show done by your  hosts at the camp.
The 6 days Morocco tour from Fes to Marrakech allows you to explore the interesting Todra Gorges and Dades valley where you will have  an experience of a lifetime. On the route to Marrakech, we'll stop at one of the region's famous Kasbahs,Amerdile Kasbah. Next, Head to Ouarzazate Morocco's Hollywood, make a visit to the film studio and go to Ait Ben Haddou where you may meet across some Berber nomads and take some great shots over the Tizi N Tichka before arriving in Marrakech. You should not miss this tour if interested in exploring the enchanting part of Morocco.
Highlights of 6 days Morocco desert tour from Fes to Marrakech:
6 days Morocco tour Itinerary:
Day 1: Full day Fes sightseeing:
Your 6 days Morocco desert tour from Fes to Marrakech will begin in the morning from your Riad in Fes, you will begin exploring the entire city with a local tour guide. At first,  You will visit Tanneries where original leather is used to make clothes, and then you will travel to El Mellah, Jewish quarter. Next, make a visit to the Royal Palace; Dar Al Makhzen which was founded by the Marinid Sultan Abu Yusuf Yaqub in 1276. Following that, you'll explore Bab Bojloud and Quaraouine University (the world's oldest university), before spending the remainder of the day touring Fes's ancient city.
Lunch will be served at a well-known restaurant in the city. You will also visit Medersa and Azaouia Moulay Idriss, is a zawiya in Fez, It features the mausoleum of Idris II, who governed Morocco from 807 to 828 and is often regarded as the city of Fez's primary founder. Following that, we'll drop you off at the hotel where you'll be staying for the first night of your 6 days Morocco desert tour from fes to Marrakech.
Day 2: Fes – Cedar forest – Midelt:
Departure from Fes at 8 a.m., through Azrou, where you may enjoy the greatest seceneries and view the Barbary Apes of the Middle Atlas' Cedar Forest. Lunch will be in Midelt," the apple capital " at the foot of the Alyachi Mountains. Next, we willl tour the city. Late afternoon, transfer you to your Hotel for an overnight.
Day 3: Midelt – Merzouga Sahara Desert:
We will cross via Tizi n Talghmet (She-camel pass) descending into Ziz valley . Take in the breathtaking scenery along the way. Aoufous is reached. After a brief stop at an incredible panorama, continue on to Erfoud, the date capital and famous for fossil make a visit to a museum of fossil finds discoveries. Afterwards, we continue to Merzouga desert. On the way, we will make stops to enjoy the captivating views and take some shots. Arriving at Merzouga Desert, will be greeted with mint tea. Next you may go up the dune to view the greatest sunset ever ! (dinner and overnight at the hotel).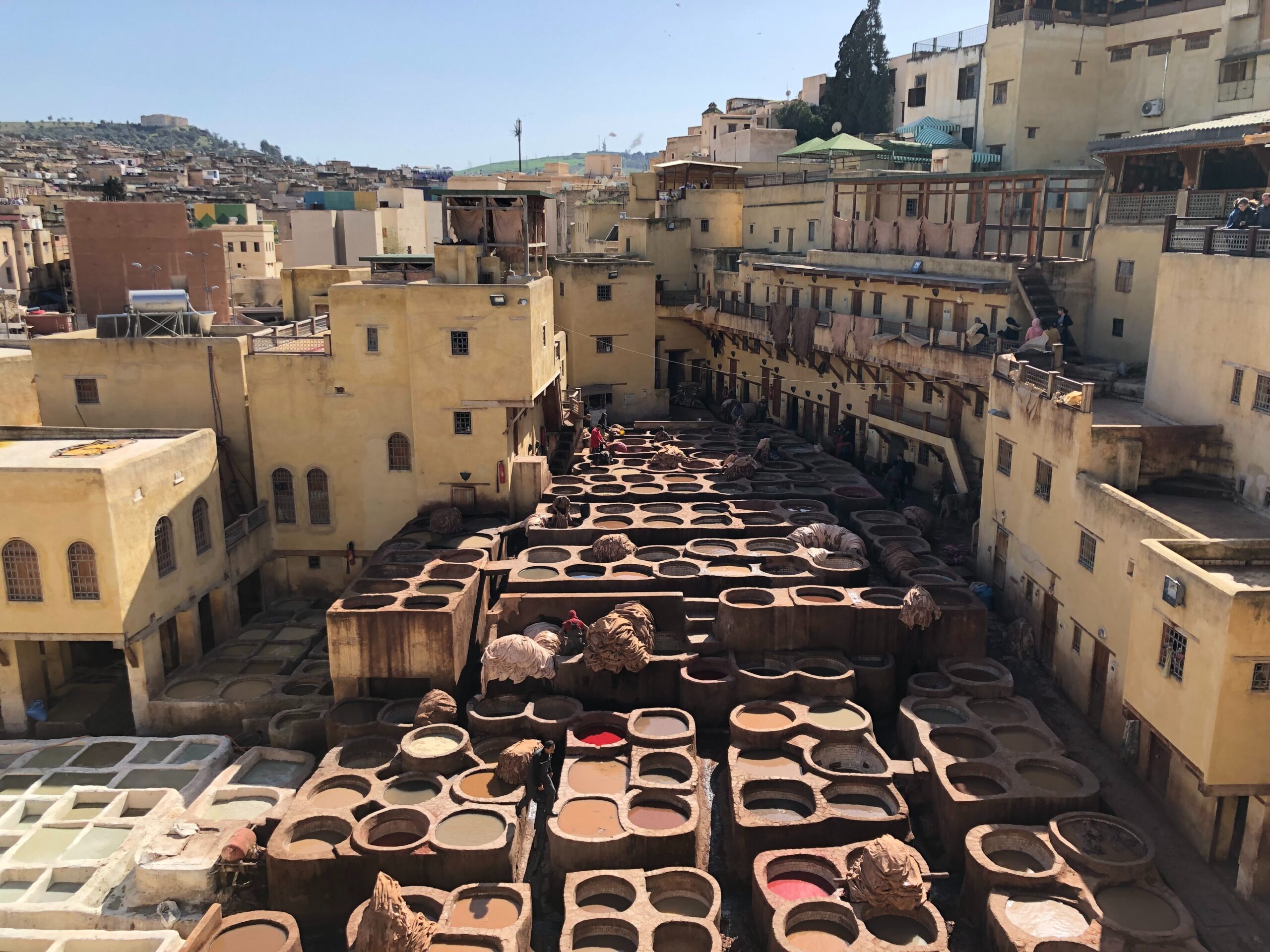 Day 4: Exploring Merzouga- Camel trekking:



In the morning take a local tour around Merzouga dunes where you can visit nomads, explore their distinctive way of life, and take some memorable pictures then head to Khamlia ( Merzouga area ) in order to attend a party of Gnawa music. After lunch at a restaurant nearby the dunes, go back to the hotel where we will take a break. Late afternoon,  you will experience a real adventure crossing the dunes of Erg Chebbi by camels watch a charming sunset and take pictures with your camel. Arriving at the camp, you will be greeted with mint tea. After that, you can try sand-boarding before dinner is ready. Then, join a drumming party around the campfire before going to your comfortable room for an outstanding overnight.
Day 5: Merzouga Desert – Ouarzazate:
Awake early for a spectacular sunrise, walk over the dunes of Erg Chebbi admiring the terrifi desert views. then return to the hotel for a hearty breakfast before departing for the Todra gorges. Visiting Sijilmassa and exploring the large traditional marketplaces in Rissani, make a visit to Moulay Ali Cherif tomb who was born in 1589 and died in Sijilmasa in 1659. From 1631 until 1636, he served as the Arab Emir of Tafilalt. Following that, we continue our 6 days Morocco desert tour from Fes to Marrakech  via Ziz valley, taking in the breathtaking views along the way. Arriving at Toda Gorges have a walk along the riverside, taking in the fascinating sceneries, you can go along the Todra Canyons with a Tour guide who will share with you any interesting information about this unique location.
Continuing on the way to Ouarzazate via Dades valley. Stop at Kal'aat Magouna, Famous for yearly Rose Festival. You can request your driver to stop. If  interested to purchase some cosmetic products produced by local cooperatives. Following that, head Ouarzazate via Skoura, known for its 1000 Kasbahs. Visit the most famous Kasbah in the Region, Ameridile Kasbah, characterised by its fascinating architecture. Overnight in Skoura.
MDay 6: Ouarzazate – Marrakech: 



After breakfast we will tour Ouarzazate, known as Hollywood of Morocco. visiting film studio, then make a visit to the famed Ait Ben Haddou Kasbah (the walled village). After being done with Ouarzazate, we head to Marrakech via the high Atlas Mountains, soaking in the magnificent vistas along the route, Stopping at the top of Tizi N Tichka pass in order to capture some great shots and enjoy the panoramic view of the high Atlas Mountains. Late Afternoon, we will be in Marrakech and drop you off at your accommodation to end your 6 days Morocco desert tour from Fes to Marrakech with unforgettable stories.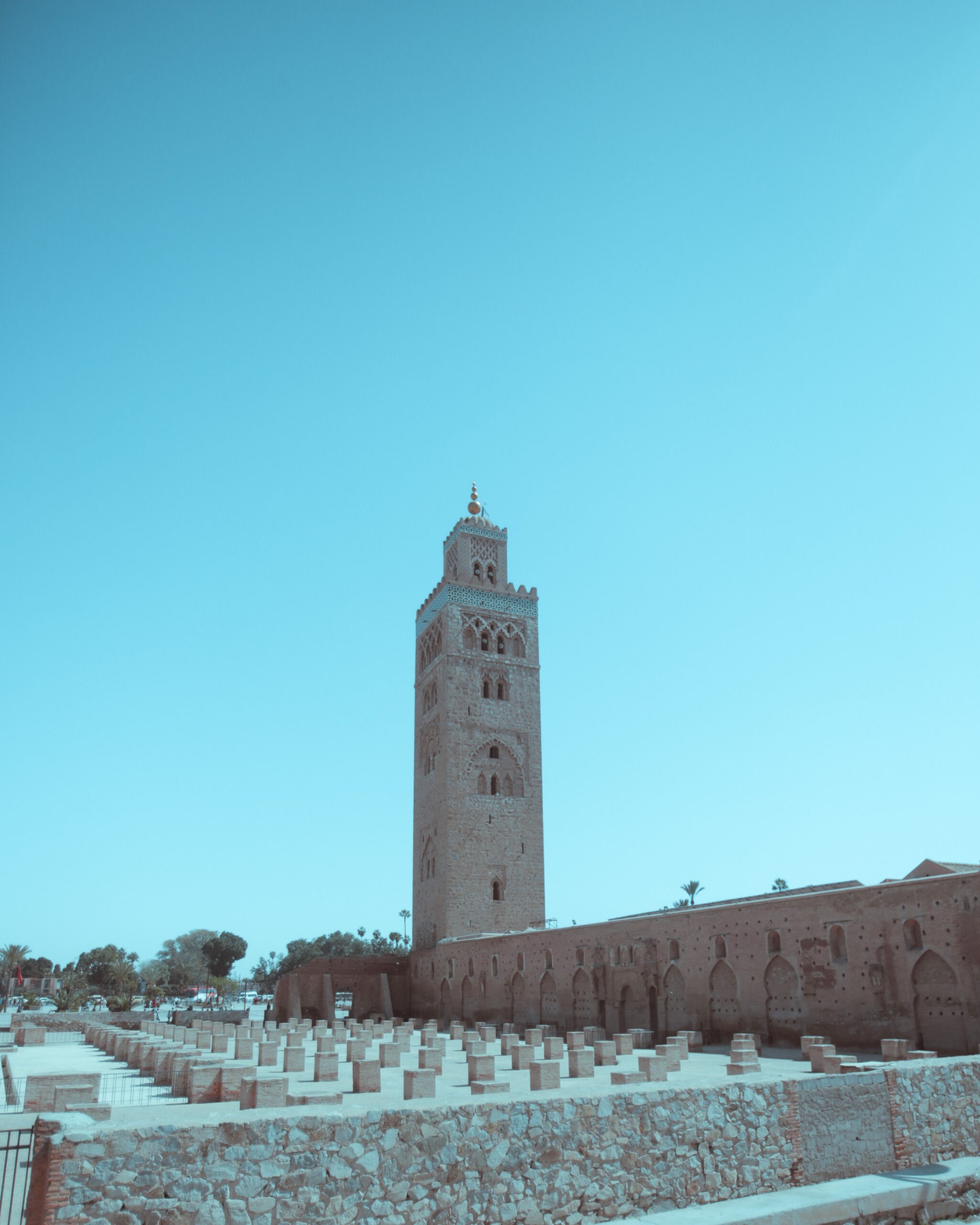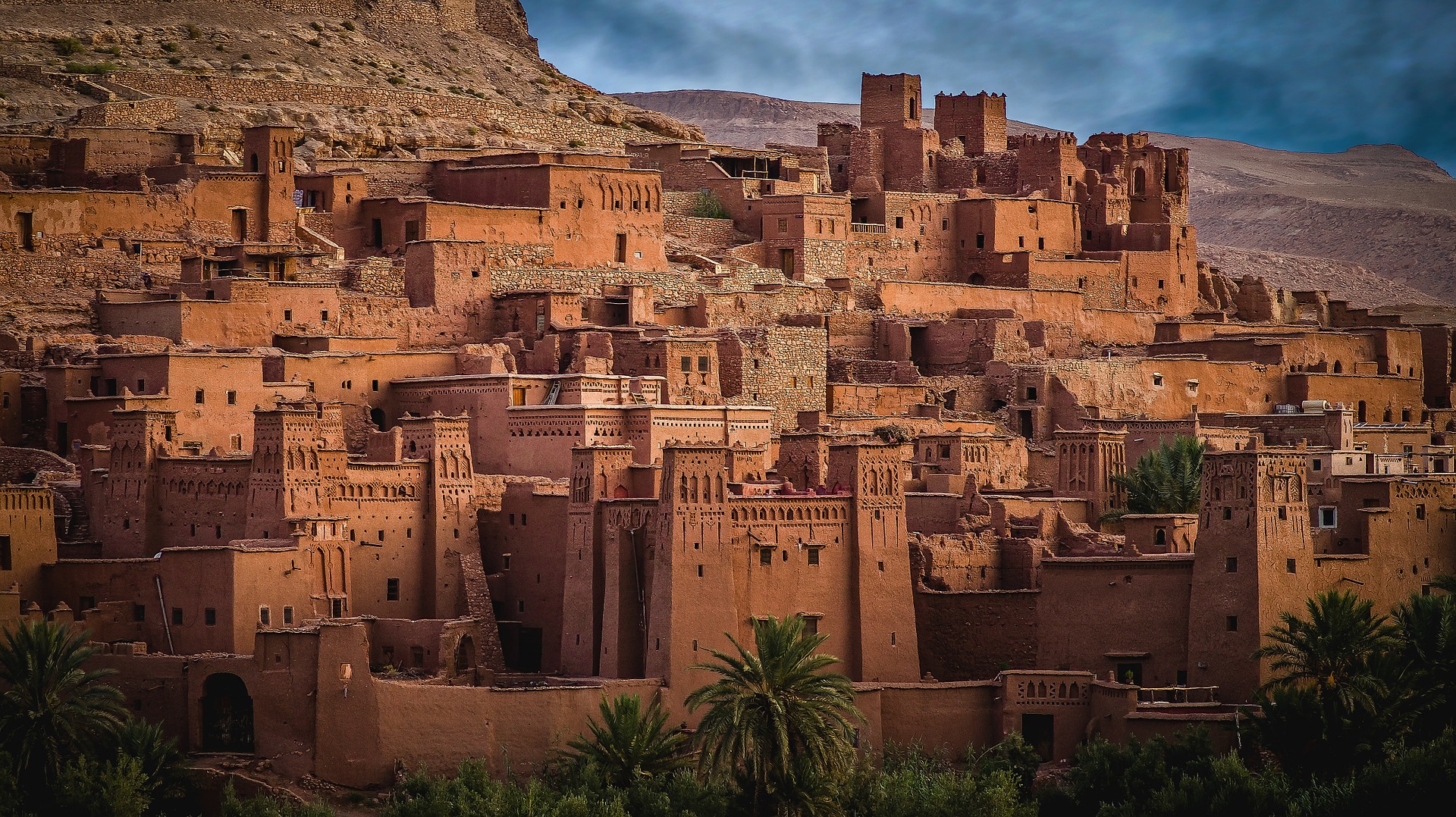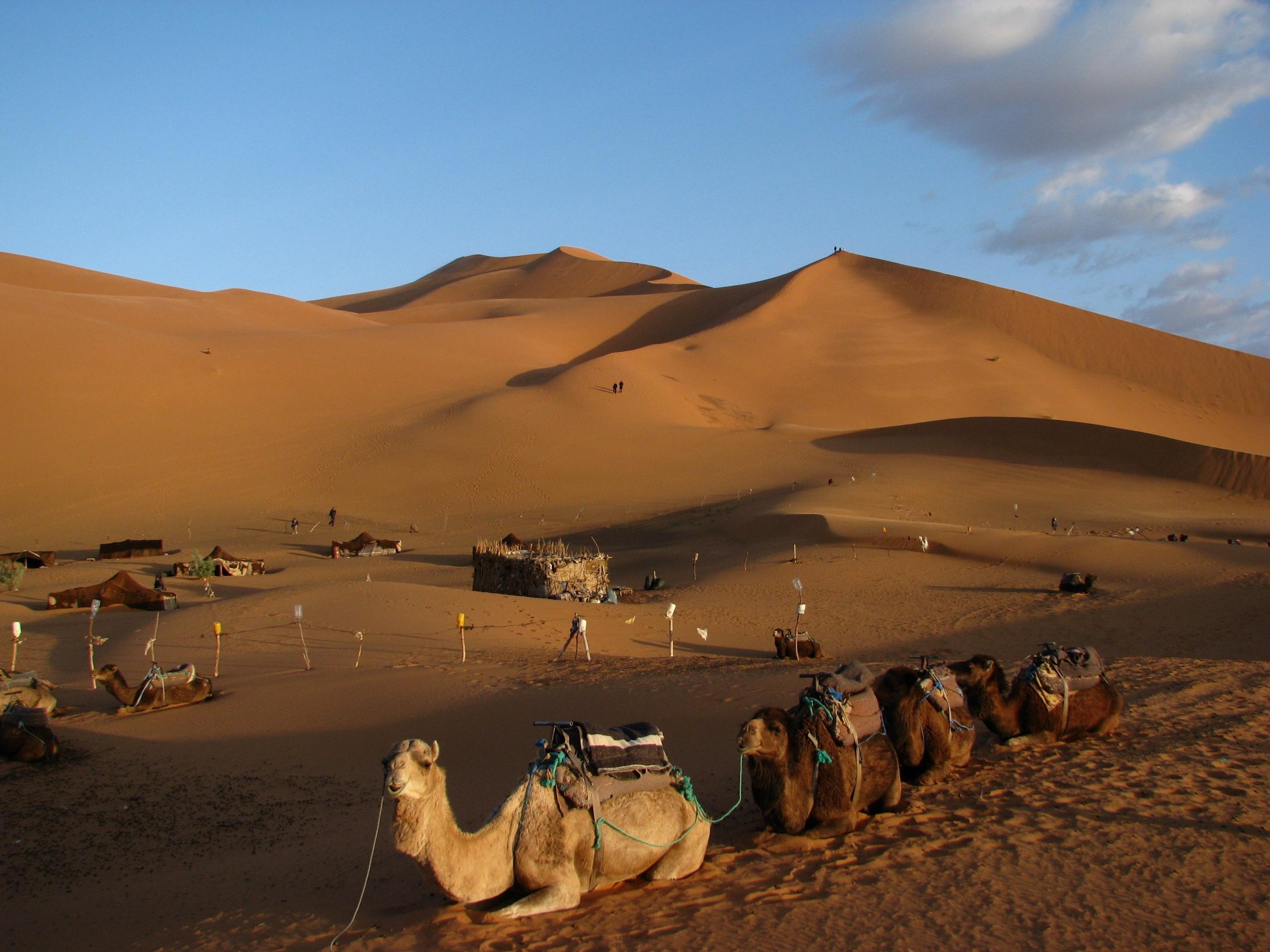 6 days Morocco desert tour from Fes to Marrakech Excludes and Includes:
English or Spanish speaking driver.
Overnight at desert camp.
Monuments fees (optional).
Vegetarian food is available.
Sleeping bag is not needed.
Interested in the tour ? Book Now
Please enter a few details in the form below. Within a few hours, one of our team members will contact you to discuss your enquiry.
We will gladly accept online payments as well as cash in person.
We generally ask for a small deposit via Paypal or any alternative payment method to confirm the 6 days Morocco desert tour from Fes to Marrakech, and the remaining to be paid to your tour guide at the time of pick-up.
For a full refund, you must cancel at least 15 days prior to the tour' start date.
If you have any question regarding this tour feel free contact us and we will get back to you as soon as possible.
(+ 212) 704131562 / (+ 212) 638516333
6 days Morocco tour from Fes to Marrakech Related tours:
2 Days Tour From Marrakech to Zagoura
Duration: 2 Days & 1 Night
2 Days Tour From Marrakech to Merzouga
Duration: 2 Days & 1 Night
3 Days Tour From Marrakech to Merzouga
Duration : 3 Days & 2 Nights
4 Days Tour From Marrakech to Ouarzazate
Duration: 4  Days & 3 Nights
5 Days Tour From Marrakech to Merzouga
Duration : 5 Days & 4 Nights
6 Days Tour From Marrakech to Merzouga
Duration: 6 Days & 5 Nights
4 Days Tour From Marrakech to Ouarzazate
Duration : 4 Days & 3 Nights
3 Days Tour From Marrakech to Merzouga
Duration: 3 Days & 2 Nights
2 Days Tour from Fes to Marrakech
3 Days Tour from Fes to Merzouga
4 Days Tour from Fes to Merzouga
Duration: 4 Days & 3 Nights
5 Days Tour from Fes to Marrakech
Durtion: 5 Days & 4 Nights
6 Days Tour from Fes to Marrakech
Duration: 6 Days & 5 Nights
8 Days Tour from Fes to imperial cities
Duration: 8 Days & 7 Nights
1 Days Tour from Fes to Chefchaouan
5 Days Tour from Fes to Marrakech
Duration: 5 Days & 4 Nights
6 Days Tour from Casablanca to Marrakech
7 Days Tour from Casablanca to Marrakech
Duration: 7 Days & 6 Nights
8 Days Tour from Casablanca to Marrakech
Duration: 8 Days & 7 Nights
15 Days Tour from Casablanca to Marrakech
Duration: 15 Days & 14 Nights
6 Days Tour From Tangier to Marrakech
Duration : 6 Days & 5 Nights
10 Days Tour From Tangier to Marrakech
Duration: 10 Days & 9 Nights
3 Days Tour From Fes to Merzouga
Duration: 2 Days & 1 Night
5 Days Tour From Marrakech to Merzouga
Duration: 5 Days & 4 Nights