Best 8 days Morocco tour from fes to the imperial cities
Your 8 days Morocco tour from Fes to the imperial cities of Morocco can be modified and designed according to your requirements.
Excellent services
Since our first purpose is to make our clients happy, we provide the finest possible service throughout your trip with Morocco Tours Company.
Multilingual drivers
Our drivers are fluent in a variety of languages and will, of course, be happy to offer their insider knowledge about all of the most intriguing destinations.
+ 6 Hours/D
Your trip with us will include plenty of rest stops and a manageable driving distance, so you'll have plenty of time to visit and learn about the most interesting sights.
Comfortable vehicles
For your comfort and enjoyment, we only offer the latest and most advanced 4×4 vehicles.
Overview of 8 days Morocco tour from Fes to the imperial cities:

Take this fantastic 8 days Morocco tour from Fes to the Imperial cities and Sahara Desert, where you will experience some of Morocco's most enchanting sceneries. Start your vacation from Fes, Morocco's old city, and continue to Meknes, where you'll explore some of the city's most significant tourist sites, including Bab Mansour, Lhdim, and Volubilis; ancient Roman ruins. Following that, take in the breathtaking scenery of the Riff Mountains. Stop at a few outstanding locations to get some  pictures. After arriving in Rabat, explore Hassan Tower and a few other fascinating places before continuing on to Casablanca, explore some fantastic places in the city like ; the Corniche, and the Hassan II Mosque, the largest mosque in Africa.
Enjoy a fantastic full-day sightseeing excursion in Marrakech includes the Ourika, Majorelle Garden, and a visit to the Dejamaa Lfna for outstanding activities. After Marrakech, enjoy an incredible journey across the High Atlas Mountains. Making a pit stop at Tizi N Tichka for some very unusual sights. When you arrive in Ouarzazate, make a visit to Ait Ben Haddou and then to the Film Studio. Continue to Skoura, stopping at Amerdhile Kasbah on the way to Todra Gorges.
Take in the best views of Todra Gorges as well as you can go on a walk along the riverside. Following that, continue on your journey to Merzouga, where your camel man will meet you at the dune line for a spectacular camel trek. View the most spectacular sunset you've ever seen,  and snap some stunning photographs. After an unforgettable stay in Merzouga, depart for Fes, making many stops along the way, particularly in Erfoud to tour some of the finest fossil discoveries museums,  then continue your 8 day Morocco tour from Fes to the imperial cities through Ziz Valley, stopping along the way at the cedar forest, Morocco's biggest forest, before ending your tour in Fes with unforgettable memories.
Highlights of 8 days Morocco tour from Fes to the imperial cities:



8 days Morocco tour from Fes to the imperial cities Itinerary:

Day 1: Fes – Meknes – Volubilis – Rabat:
We will start  our 8 days in Morocco tour from Fes to the imperial cities at 8:00 a.m. Heading to Meknes, we will be commencing this tour by visiting some of the amazing tourist spots in Meknes city such; Elhdim, Bab Mansour,' which is a huge gate in Meknes,  and One of the primary ceremonial entrances of the Kasbah, erected in the late 17th and early 18th centuries by Sultan Moulay Ismail.
Next, make a visit to Qara Jail and Moulay Ismail mausoleum. After that, we head to Volubilis; a Moroccan Berber-Roman city near Meknes that has been partially excavated. It is likely that the city served as the capital of the Kingdom of Mauretania as early as the reign of King Juba II. After lunch, we continue on our 8 days Morocco tour from Fes to the capital city of Rabat. Late afternoon. Arriving in Rabat, we will take a visit to Hassan Tower and Mausoleum of Mohammed and other significant attractions in the city. Dinner and stay will be in a superb hotel in Rabat.
Day 2: Rabat – Marrakech – Casablanca:



After being done with Rabat we continue towards Casablanca, Morocco's largest city, Following that, we visit  '' Hassan II Mosque'' Morocco's largest moque .Next, we head to Marrakech where the night will be spent.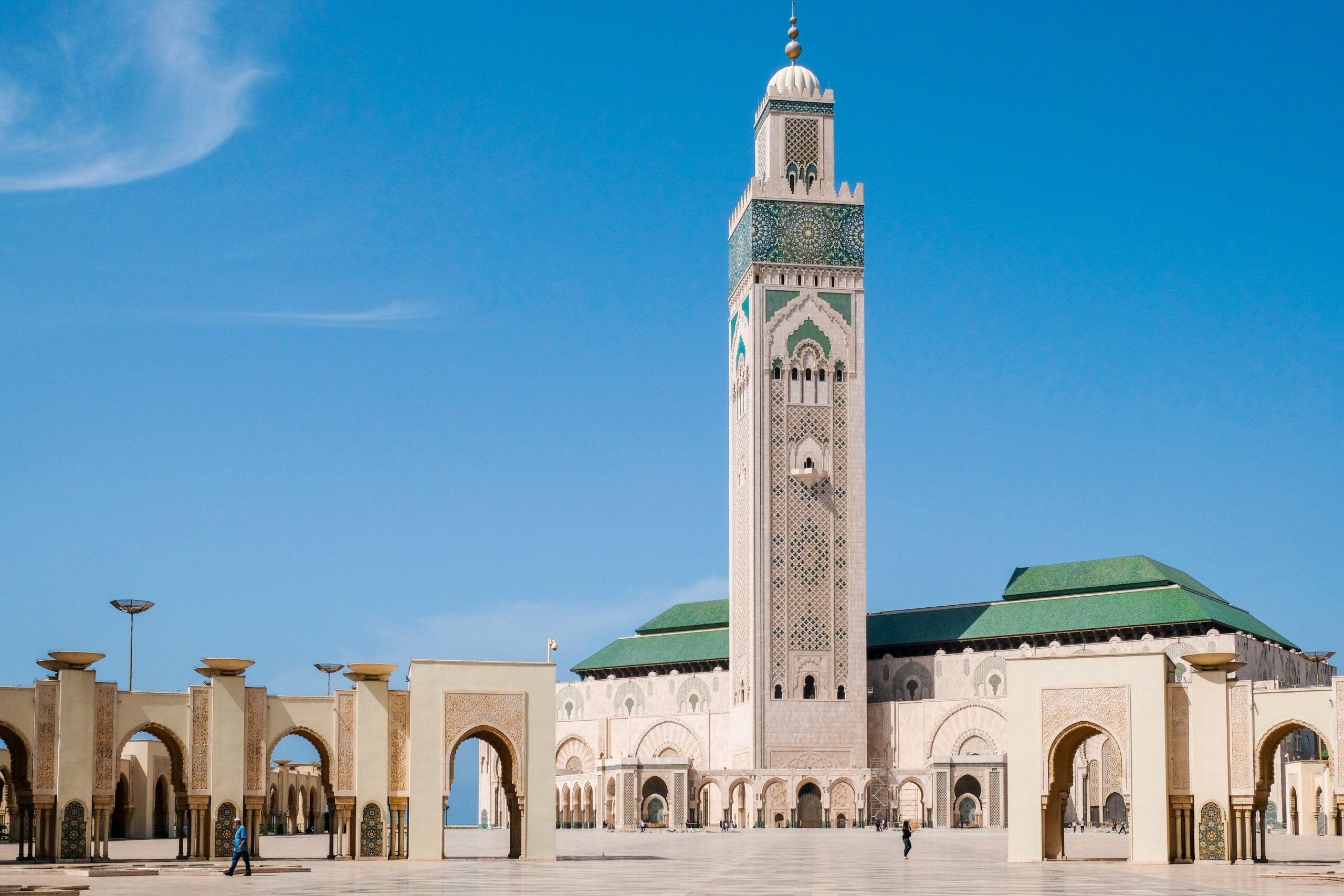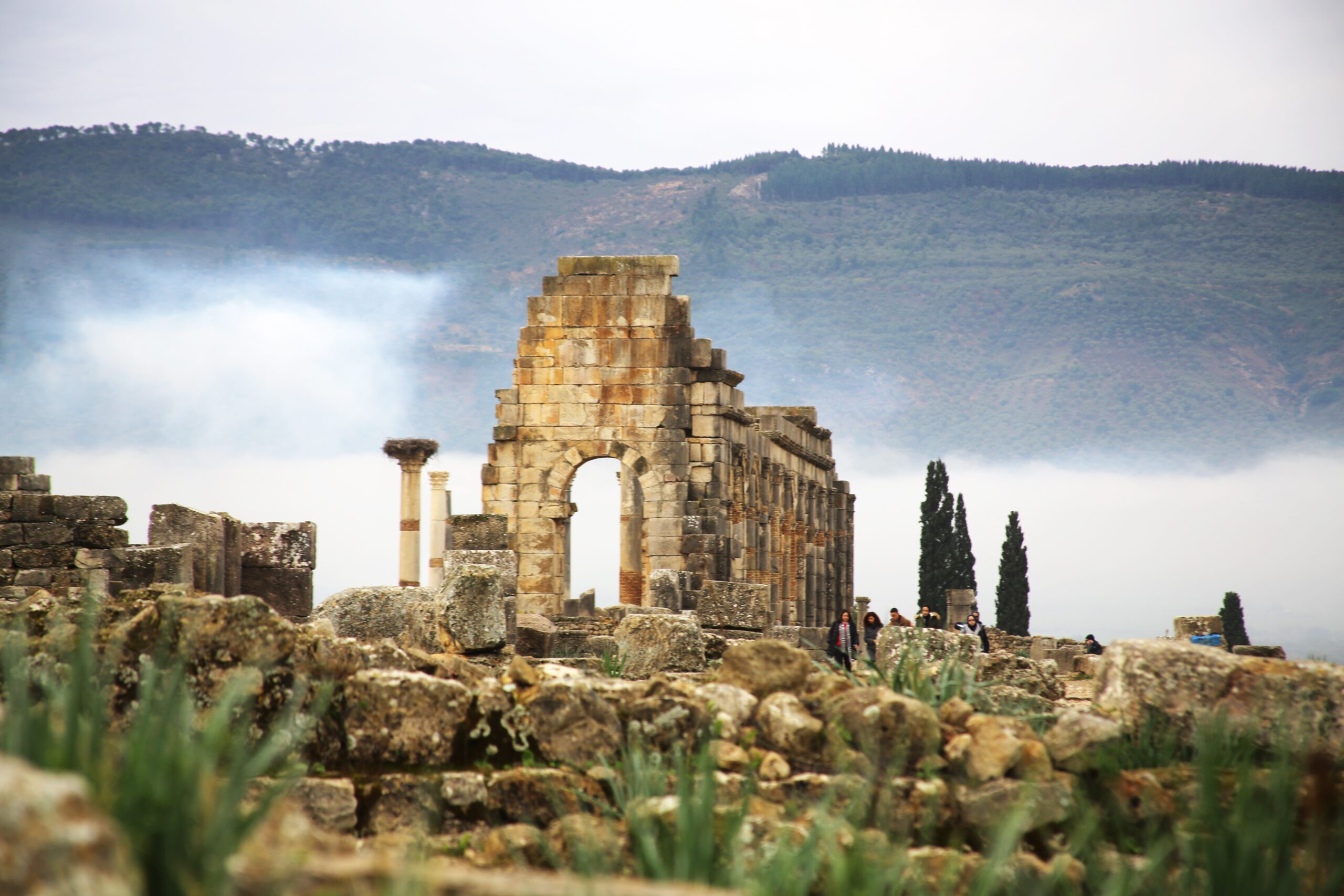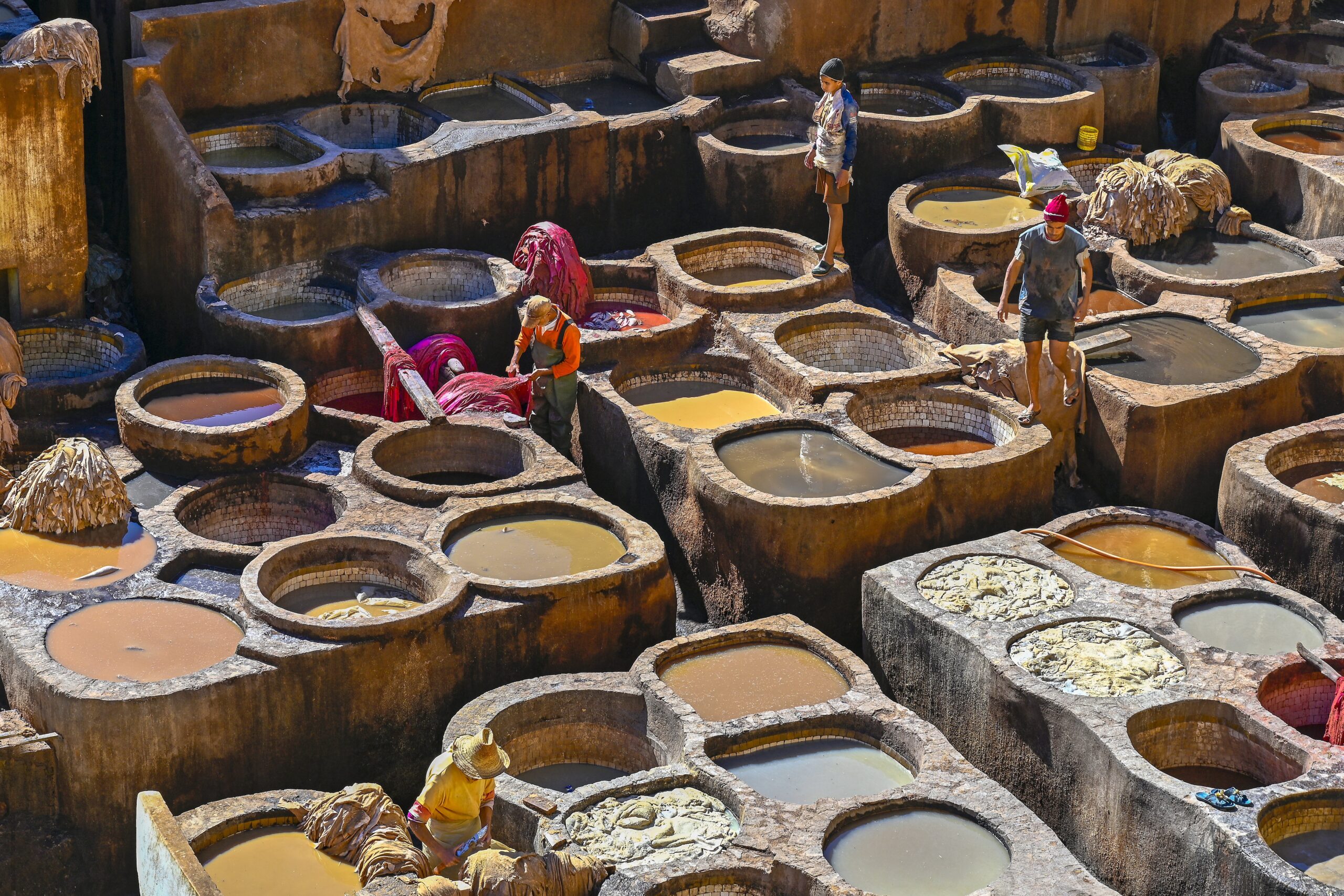 Day 3: exploring the city of Marrakech- sightseeing:



This full – day sightseeing in Marrakech will enable you to explore and visit some of  the historical landmarks and outstanding sceneries around Marrakech. First, you will be treated to see Al koutoubia mosque, Bahia Palace. Next. We visit Djeemaa Lfna; large square with unique activities including (musicians, dancer, monkeys charmers, snake charmers…etc.) In the Afternoon, we go to visit Ourika valley enjoying its wonderful landscapes .After that, we get back to the same hotel for dinner and overnight.
Day 4: Marrakech – high Atlas Mountains – Ouarzazate:



The departure to Ouarzazate about 8:00 am, we travel via the high Atlas Mountains, we will be enjoying the lovely sceneries of the high Atlas mountains we stop at Tizi n Tichka pass to snap some photographs or have mint tea at the café then we proceed to Ouarzazate. Lunch in Ait ben Haddou Kasbah, the region's finest Kasbah. Ouarzazate is a lovely city to explore thereafter. Our next stop is the film studio, where movies like Gladiator and many more, both local and international, have been made. After a visit to Touarirt Kasbah we check for accommodation for overnight in the city.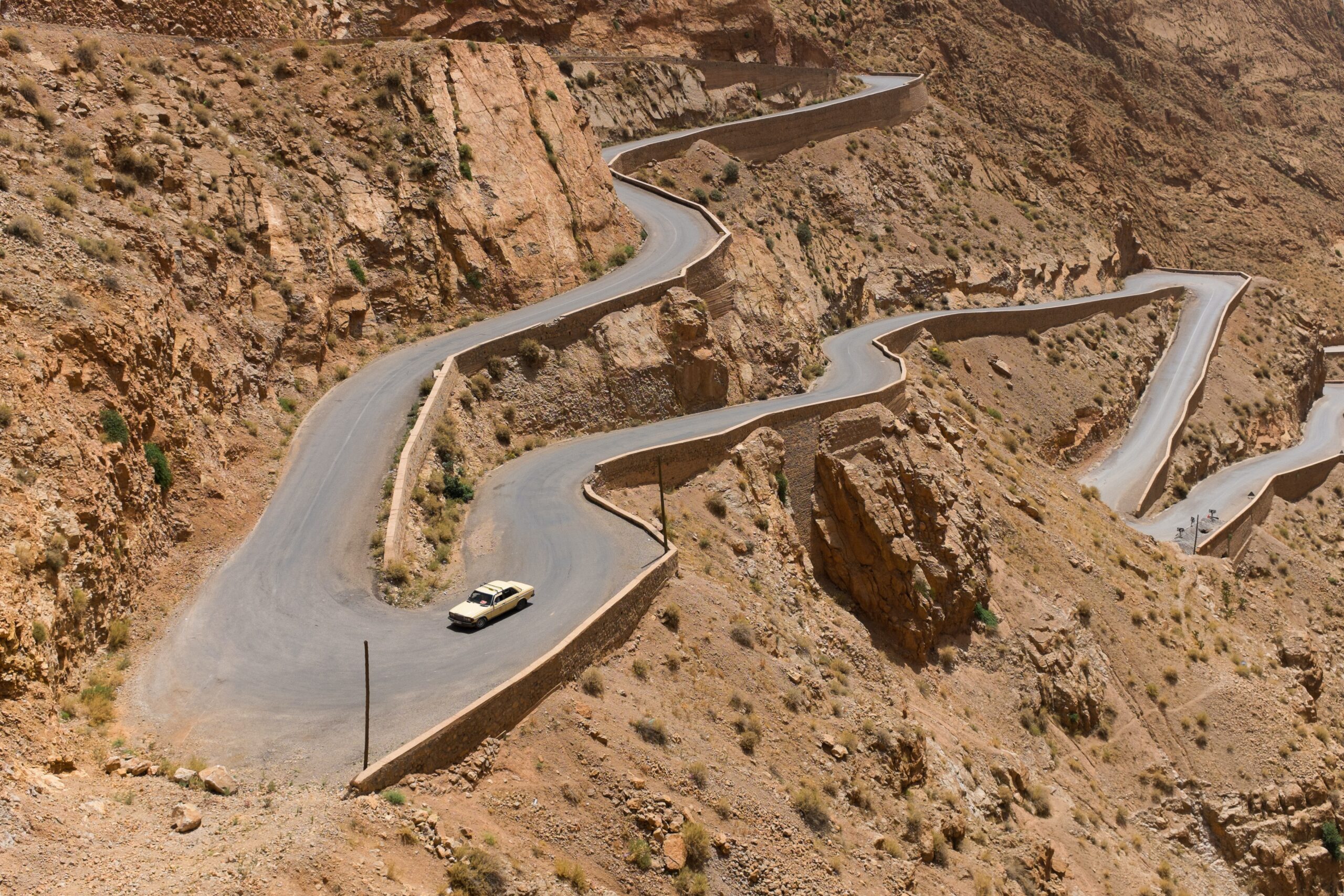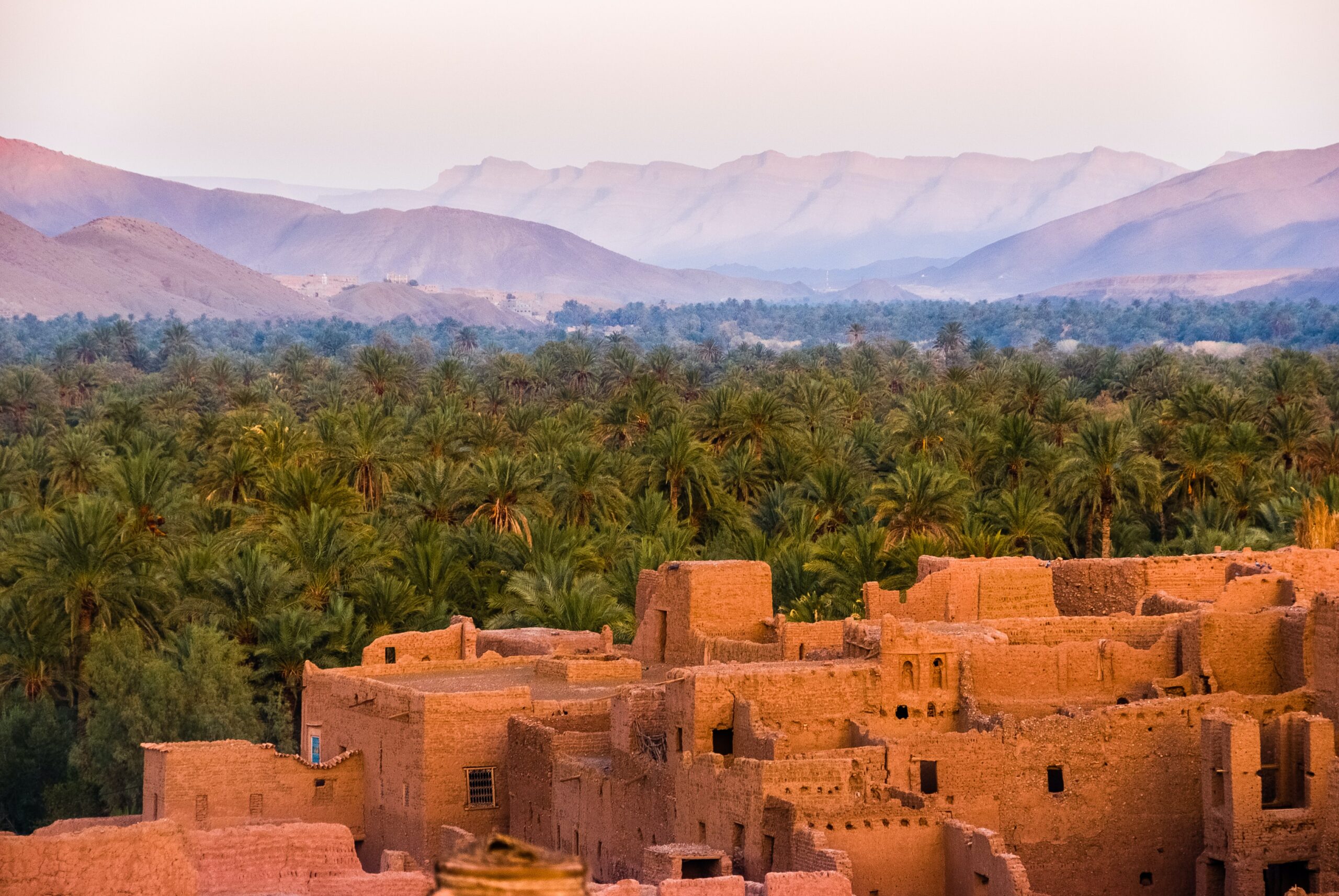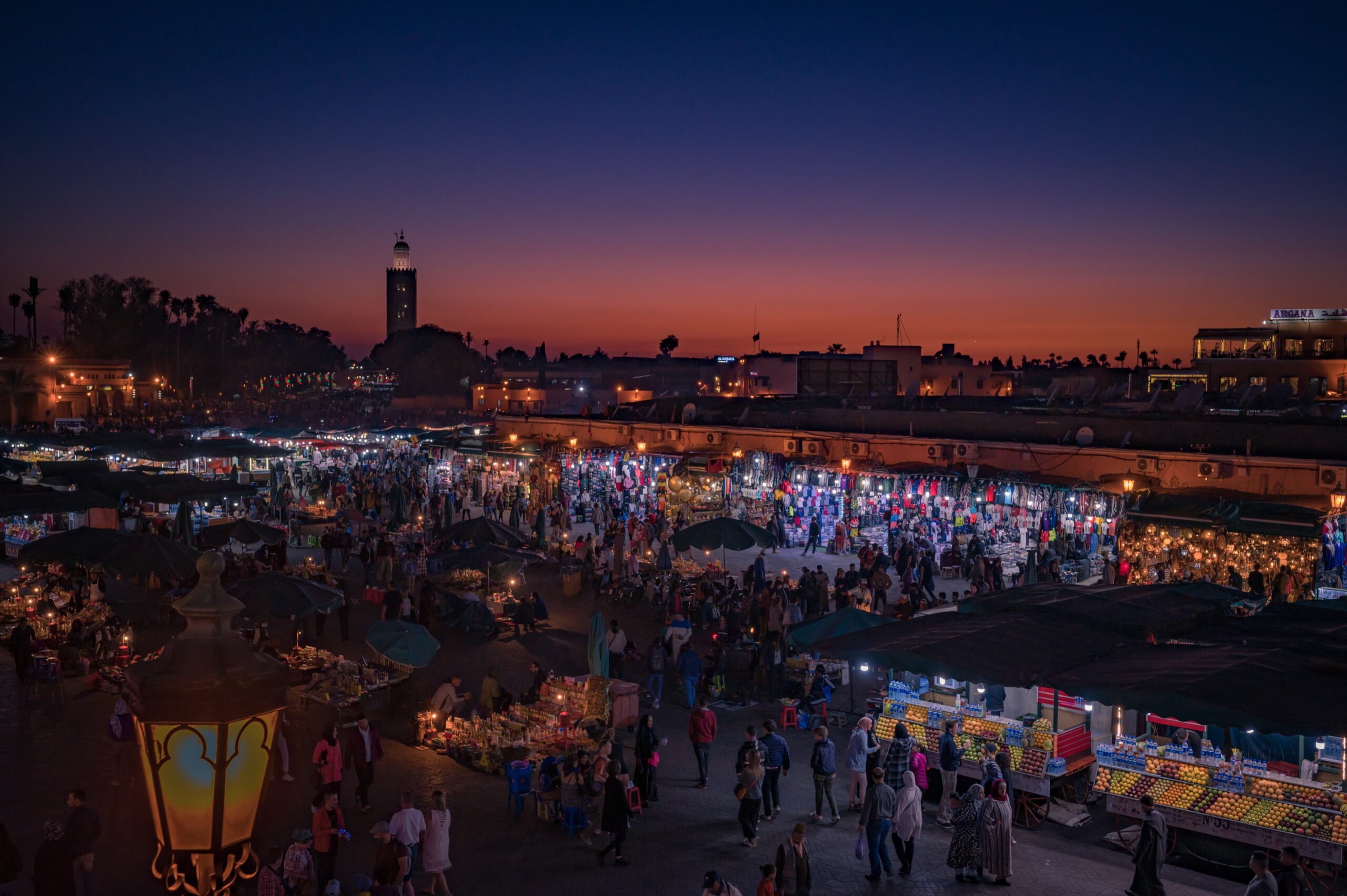 Day 5: Ouarzazate – Dades gorges:



After breakfast,  drive to the Dades Gorges. On the way to Skoura, we will enjoy the natural scenery. We make a stop to see M'agouna town and visit some local cooperatives that make cosmetics products from roses, you can purchase some products. If interested. Following that, we pass through thousands of Kasbahs in Skoura. We make a lot of stops to see different Kasbahs on our way including the famous Ameridile Kasbah. After that, we'll have lunch at a restaurant that looks out over the valley of the Dades. Next head to Dades Gorges, make a trip to explore the rock formation!  Dinner will be served at a kasbah.
Day 6: Dades gorges – Merzouga desert (camel trekking & overnight):



In the morning, we depart via Todra Gorges, an outstanding tourist location and the preferable place for mountaineers, you can go with a local tour guide  along the riverside to explore the captivating gorges, and experience mountaineering. If interested. After that, we continue driving on our way to the Sahara Desert of Merzouga, enjoying amusing sceneries along the way. In Melaab, we make a stop to eye a wonderful Berber market that sells Berber accessoires and colorful carpets.
Following that,  we continue our trip to Erfoud where you will feel the beginning of Saharan oasis. Make a visit to some museums of fossil finds. Then,  head to Rissani and see Sijilmassa then continue on to Merzouga desert. Upon the arrival to the Sahara. Go on an equisite camel trekking via the gorgeous dunes of Erg Chebbi. Watch an unbelievable sunset, arriving at the camp, you can try sand-boarding. After dinner,  join an amazing drumming show around the campfire.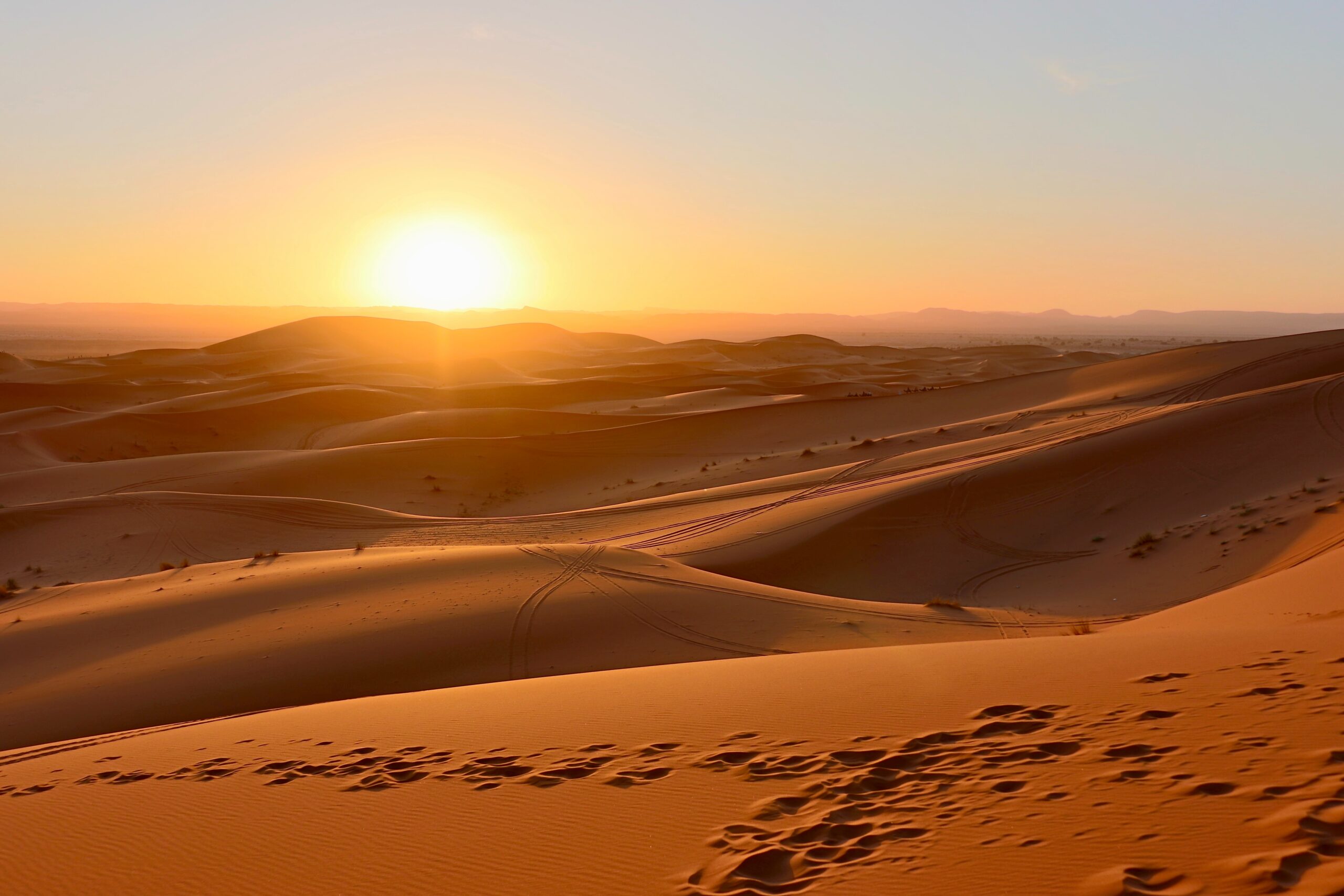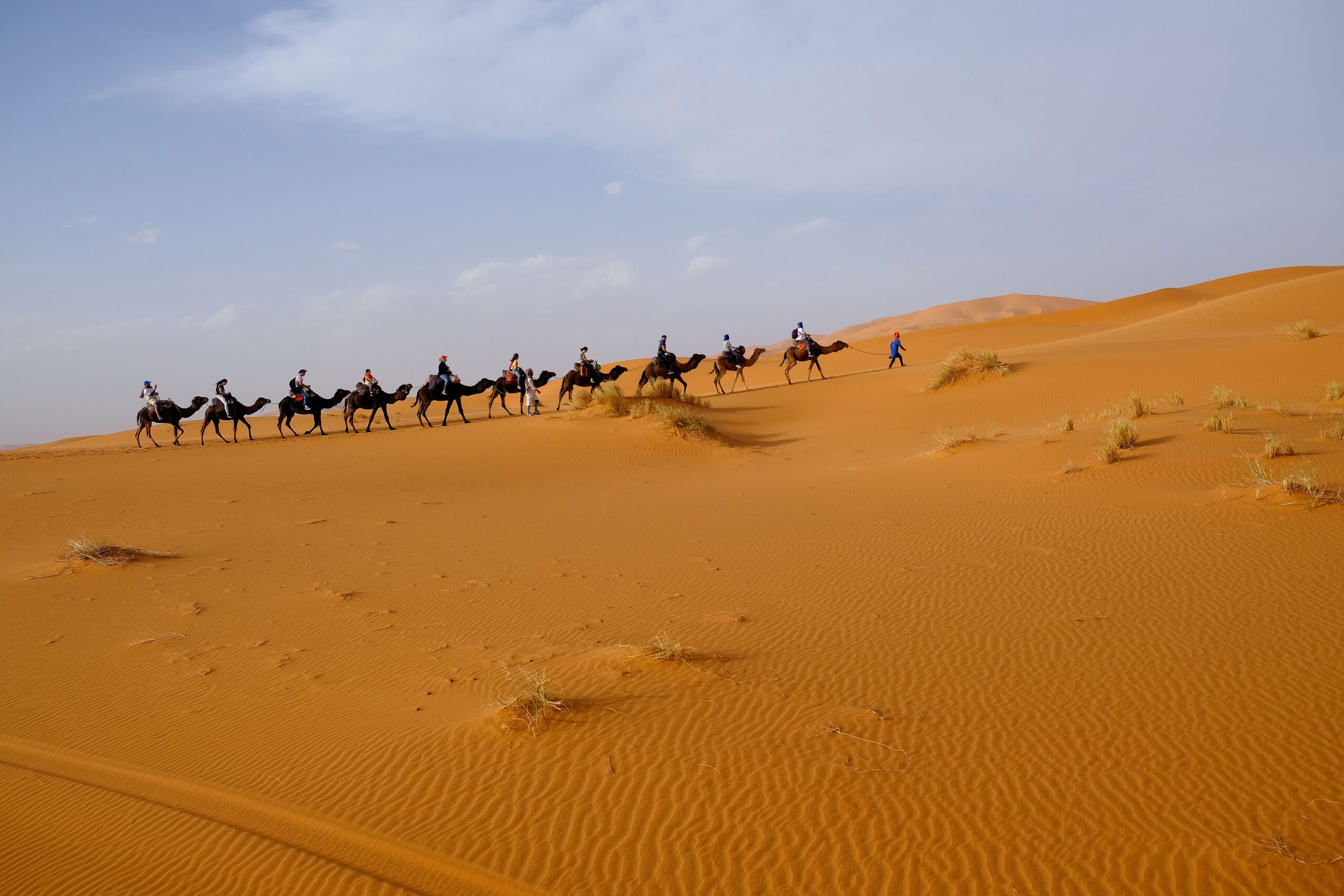 Day 7: Merzouga – Ziz valley – Midelt:
Wake up early morning to watch an astonishing sunrise from the high orange dunes of Erg Chebbi, take terrific shots to remember. Then go back to the hotel where you will have breakfast to get ready for the next adventure. After that, leave for Erfoud, a city known for its rocks, fossils and outstanding museums. Later than, we continue via Ziz valley admiring the green palm trees of Tafilalt. Arriving in Midelt city, a  beautiful city nestled among the Middle Atlas Mountains. Take in the sceneries around the city. Lunch time,  Stroll around the city and enjoy the fantastic views before an overnight at the Kasbah. Last night of this 8 days Morocco tour from Fes to the imperial cities.
Day 8: Midelt – Cedar forest- Fes:
After breakfast, We drive along the way to Cedar Forest, Morocco's largest forest, we will enjoy  the greatest vistas. then proceed to Fes through Morocco's Little Switzerland of Ifrane. Arriving at Fes where will end our 8 days Morocco tour from Fes to the imperial cities with unforgettable stories.
8 days Morocco tour from Fes to the imperial cities Excludes and Includes:

English or Spanish speaking driver.
Overnight at desert camp.
Monuments fees (optional).
Vegetarian food is available.
Sleeping bag is not needed.
Interested in the tour ? Book Now
Please enter a few details in the form below. Within a few hours, one of our team members will contact you to discuss your enquiry.
We will gladly accept online payments as well as cash in person.
We generally ask for a small deposit via Paypal or any alternative payment method to confirm the 8 days Morocco tour from Fes to the imperial cities, and the remaining to be paid to your tour guide at the time of pick-up.
For a full refund, you must cancel at least 15 days prior to the tour' start date.
If you have any question regarding this tour feel free contact us and we will get back to you as soon as possible.
(+ 212) 704131562 / (+ 212) 638516333
8 days Tour From fes to the Imperial cities related tours:
2 Days Tour From Marrakech to Zagoura
Duration: 2 Days & 1 Night
2 Days Tour From Marrakech to Merzouga
Duration: 2 Days & 1 Night
3 Days Tour From Marrakech to Merzouga
Duration : 3 Days & 2 Nights
8 Days Tour From Fes to the Imperial cities
Duration: 8  Days & 7 Nights
5 Days Tour From Marrakech to Merzouga
Duration : 5 Days & 4 Nights
6 Days Tour From Marrakech to Merzouga
Duration: 6 Days & 5 Nights
4 Days Tour From Marrakech to Ouarzazate
Duration : 4 Days & 3 Nights
7 Days Tour From Casablanca to Marrakech
Duration: 7 Days & 6 Nights
2 Days Tour from Fes to Marrakech
3 Days Tour from Fes to Merzouga
4 Days Tour from Fes to Merzouga
Duration: 4 Days & 3 Nights
5 Days Tour from Fes to Marrakech
Durtion: 5 Days & 4 Nights
6 Days Tour From Tangier to Marrakech
Duration : 6 Days & 5 Nights
10 Days Tour From Tangier to Marrakech
Duration: 10 Days & 9 Nights
3 Days Tour From Fes to Merzouga
Duration: 2 Days & 1 Night
12 Days Tour From Casablanca to Marrakech
Duration: 12 Days & 11 Nights
1 days Trip From Fes to Chefchaouen
1 day Trip From Marrakech to Imlil
5 Days Tour From Marrakech to Merzouga
Duration: 5 Days & 4 Night
15 Days Tour From Casablanca to Marrakech
Duration: 15 Days & 14 Nights